Sunday Punch Tasting Set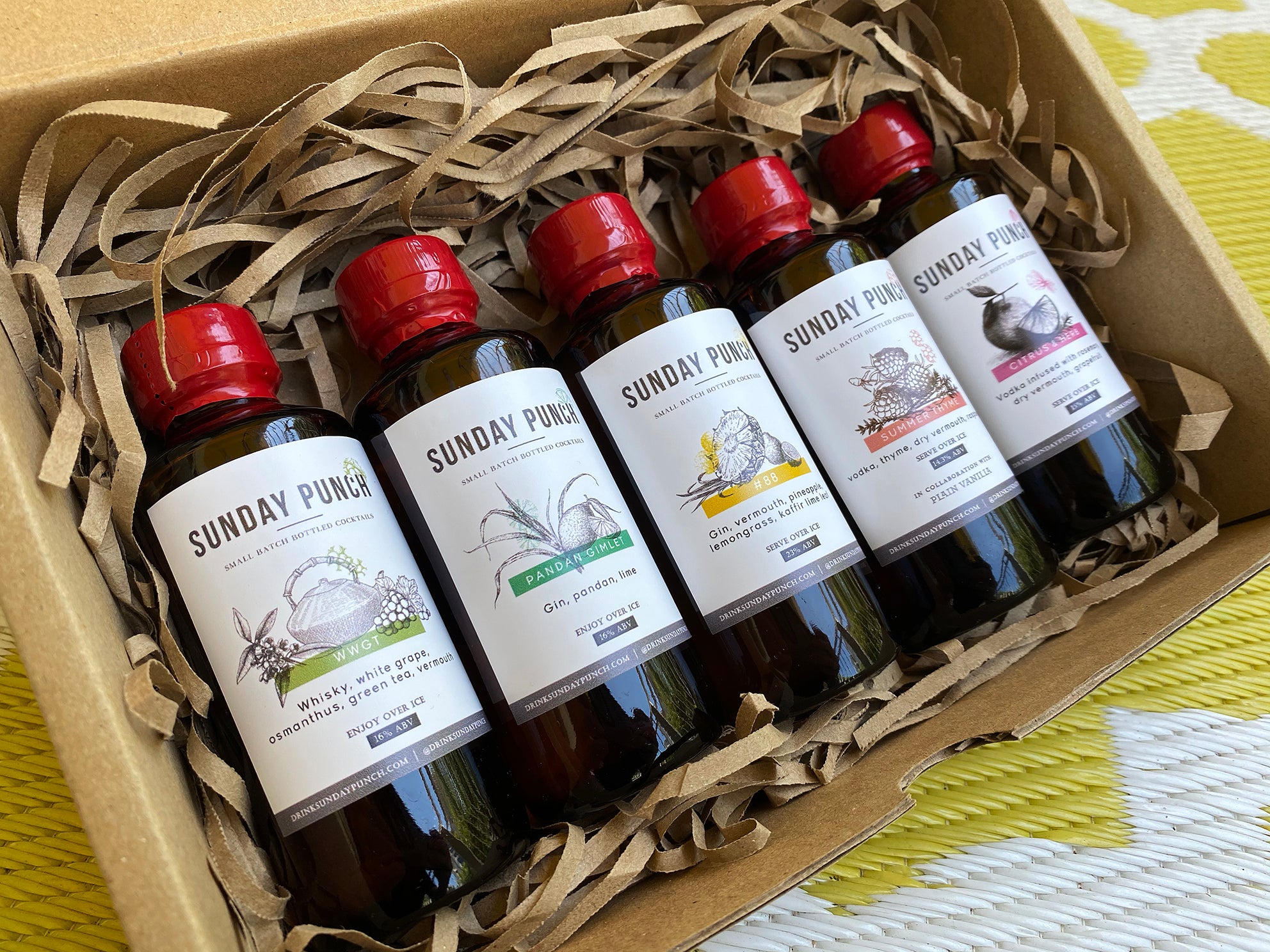 If you're new to our range of Sunday Punch bottled cocktails or looking for the perfect gift for friends and family who enjoy a good drink, check out our Sunday Punch Tasting Set.
Every set comes with a hand-picked selection of five cocktails, each in 100ml bottles to provide a tasty sample of the flavours that we've created for you.
Do note that the images are for reference only. Flavours may change depending on availability. Please inform us if there is a particular flavour you would like to receive and we'll do our best to include it.

(You might also be interested in our 250ml Gift Bundles for more gifting and hosting options)
Some flavours you can expect in the Sunday Punch Tasting Set are
- #88 - 
gin, dry vermouth, pineapple, lemongrass, kaffir lime leaves,

- Summer Thyme -
vodka infused with thyme, dry vermouth, raspberry

- Pandan Gimlet - 
gin, house-made pandan syrup, lime

- Citrus & Herb -
vodka infused with rosemary, dry vermouth, pink grapefruit

- Momo Hoji -
whisky, roasted green tea, white peach, sweet vermouth

- WWGT -
whisky, green tea, osmanthus, dry vermouth, white grape

- Bittersweet -
whisky, cinnamon, clove, orange peel, sweet vermouth, cynar, creme de cassis

Send some Sunday Punch love to your friends and family today!

If you'd like to order several sets for delivery to different addresses around Singapore, we're happy to help! Just drop us an email at mark@drinksundaypunch.com or DM us  @drinksundaypunch on Instagram.